HAIL & FAREWELL
You know, I hadn't thought about this when I started my blog, but ever since I touched down on American soil there's been this nagging little thought lurking around in the back of my head that at some point I was going to have to shoot this blog and put it out of my readers' misery. I'm afraid that my ravings would sound even less relevant than normal, without the inspiration of Zebras, homicidal zealots, and bureaucratic insanity to keep me worked up. With all that in mind, I decided the best thing was to quit while I was ahead, or at least not too far behind.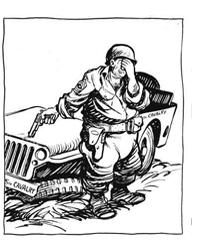 (With credit to Bill Mauldin)
Now I'm not an author, but I've read enough paperbacks to know that generally there's a preface by the writer where he passes out his thanks for…oh, Aunt Martha's apple pie recipe which kept him going, etc., and then manfully allows how any mistakes in the script are solely his.
You've probably snapped by now on the fact that I am getting this exactly backwards, and doing that at the end. This will come as no great surprise to my friends and family, who have long harbored suspicions (with some justification, actually) about my mental competence.
I won't name all the friends and family who inspired and supported me while I was in Iraq, for fear that I might accidentally overlook someone and give offense where certainly none was ever intended. You know who you are, and I will always cherish the experience of seeing love made manifest in your actions. In fact, I received so much support that Ol' Boy began grousing toward the end about having to go pick up "YOUR mail" every day and lug the care packages back to the office. Fortunately, Ol' Boy could generally be bought off by sharing some of the chocolate.
For my conscience's sake, I hasten to point out that my tour in Iraq was essentially a vacation compared to the soldiers who were at the tip of the spear every day. They had a 12 month (or longer) tour, compared to my 5 months. They went outside the wire much more often, or did the street fighting to reclaim a city from the criminals and terrorists. Those are the folks doing our nation's dirty, dangerous work, and they deserve your admiration. About the only thing I had to worry about was making the mistake of walking under a falling rocket or mortar. That's not even in the same league.
I remember being at the 31st CSH (Combat Support Hospital) in Baghdad around midnight the night before Thanksgiving. As I walked down the halls I saw soldiers in the lobby and hallway, passing the time with the small talk of soldiers everywhere about home, cars, and girls. Almost all of them had terrible burns, a few were on artificial legs, and others showed the stitched up evidence of recent surgeries. There, America, are your heroes. Take time ever now and then to think about them and what they've given to our country. They had all done their duty, and I thought of Robert E. Lee's observation on duty that "no man can do more, and no man should do less".
Regrettably, I have some apologies to make as well. I consider it a point of honor to reply to any letter or e-mail I get, and I received one from a SSG stationed in Korea who wrote me to comment on the blog. I replied to his e-mail, but for some reason the msg bounced back and I had deleted his address. So, Sarge, if you're reading this, please accept my apologies.
I know that leaving comments through the blog site is not user friendly, so you can reach me directly at
jerry.kendrick@gmail.com
if you'd care to write.
So, like the military ceremony of "hailing" the new commander and saying "farewell" to the old one, I leave behind one life and resume another. It has been an honor and a pleasure to share my experiences with you. Please know that everyone I talked to in Iraq was aware of the support that you give to your soldiers, whatever your take on the war. That is a priceless gift – thank you. My most devout prayer for each of you is that at some point in your life you experience the same wonderful affection and support that I enjoyed in Iraq. I think it may be a rare experience, but it is one that is never forgotten.